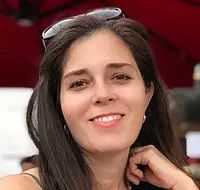 Ximena Munoz
Spanish and English
Hi, my name is Ximena Munoz. I am a multilingual world traveler, teacher and mother of two boys. I was born in Colombia where I received all my education in French and English, at the Swiss School in Bogota. Learning new languages introduced me to the richness of cultural diversity and the desire of travelling. After obtaining my BS in Industrial Design, I lived in Greece for a couple of years, adding a fourth language in my life: Greek. I was part of an experimental ceramic art studio. Later on, I had the opportunity to continue my journey by living in other extraordinary places like Massachusetts, Pennsylvania, Michigan and even Japan. All these places have given me positives experiences and a luggage full of memories.
Currently I Live in Florida with my family, where I became involved in the school system. During the past 3 years I've worked as an elementary substitute teacher and assistant. This year I received my temporary teacher certificate. I discovered that I love teaching and through my lessons I want to plant the same seed that my teachers planted on me: love for other cultures and curiosity for the world that we live in.
We are part of a multicultural society and, being able to speak other languages opens minds and also many doors. I would love to keep learning with my students about other cultures, while sharing my knowledge and experience. I'm confident this will be an exciting journey!
Buy introductory program with Ximena >