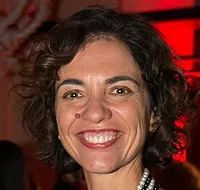 Sabrina Fedato
Italian
Italian team leader
Ciao! My name is Sabrina Fedato.
I am Italian. I was born in Treviso, a beautiful medieval town located in the North East of Italy, close to Venice (in Italian Venezia). I still live in Treviso and work as an English teacher in local middle and high schools. I am also a tour guide in the Province of Venice and Treviso. I've been working in tourism since 2005.
It goes without saying that I love Italy as well as the region where I was born, Veneto. I am very proud of being Italian and taking tourists around to discover the treasures of my homeland is most rewarding indeed.
I have always been fascinated by the past, because the past provides the insight needed to uncover the reasons for the present.
That's why after my diploma in Tourism, I took a Master's Degree in Language Sciences at the Cà Foscari University in Venice. I wanted to satisfy my curiosity by discovering historical works and languages, following the path of the history of humankind. My final dissertation was about Language interference in the history of English. I also studied for a semester at the Warwick University in the UK and at the Venice International University.
I speak English and French fluently. I also studied German in high school and university (but then forgot a lot!), and I also speak some basic Spanish. I love learning languages and I think that once you have started learning a new foreign language, you can easily learn many others. It's only a matter of method and hard work.
Some other facts about me:
You would never tell, but I worked for twelve years as a gym instructor. I liked that job a lot! I used to dance too: I was the choreographer of a little group and we performed in local theatres and discos.

I stopped dancing when I had my second baby: I decided to work as a full-time mum for a period! That was the best decision of my life.

I am a linguist and a philologist. If you are curious and you want to know why we speak the way we speak, I am the right person for you.
These in short are but a few of the reasons why I am passionate about my work.
I would be very glad to teach you Italian or help you improve your language skills. Let's get started!
Buy introductory program with Sabrina >