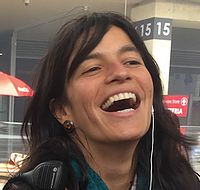 Natalia Schönwald
French, Spanish, and English
Hello!
I am 40 years old, and I work in the cultural and event sectors. I very much enjoy working on a team and making ideas a reality!
I grew up in the countryside and I really enjoy being there, cultivating my food and taking care of the gardens and the animals. I have been living in Bogota for a while, after living in Paris and Rome. I am in a happy relationship, we have a daughter who will be 8 years old soon.
I love to laugh, and I will be delighted to meet you and travel together through our common universes!
Buy introductory program with Natalia >