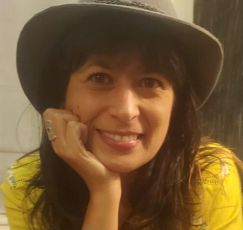 Natalia Guarnizo
French, Spanish, and English
I was born in Colombia and raised between Bogota and Paris, so I am completely bilingual in French and Spanish. I also belong to a multicultural and multilingual family: my mother is French and Colombian, my father is Colombian, my stepfather is Brazilian, one of my brothers is American and the other one is French. And finally, I am married to an Italian artist I met many years ago in Paris.
I graduated from Performing Arts and earned a master's degree in Cultural Management at the Institute of European Studies at Paris 8 University. I worked as an actress for some years in France but in 2007 I decided to come back to Colombia. So, during the past 13 years I have worked as a cultural manager in different sectors of the Colombian cultural industry. Meanwhile I trained as a kundalini yoga instructor and discovered the wonderful world of meditation. I am passionate about all forms of art and love to spend my free time in nature.
Thanks to my experience as a yoga instructor, I have been able to understand that despite the fact that each person is a whole universe full of contrasts, we always find something that unites us and allows us to learn from each other. Teaching is learning and vice versa.
I would be delighted to accompany you in the learning or improvement of French or Spanish and I am completely willing to adapt my classes to the topics of your interests.
Buy introductory program with Natalia > coming soon
Current students - schedule class with Natalia > coming soon