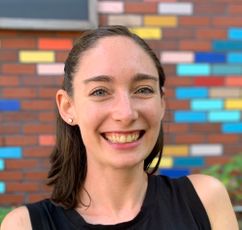 Molly Donahue
English
Hello! My name is Molly Donahue. I grew up in New Hampshire and attended university at Barnard College, in New York City. I began teaching English while studying abroad in Paris and that is how I gained my experience in helping people strengthen their speaking skills in both casual and professional contexts. I am currently living in Edinburgh, Scotland, while I pursue my Master's degree in Architectural Conservation.
Before moving to Scotland, I lived in New York City, where I worked as a radio and digital producer and social media manager. I have a lot of experience working with international teams with colleagues based all over the world and love learning about our cultural differences – and similarities! Outside of work, I have a number of hobbies including traveling, cooking, and knitting.
I am looking forward to helping you develop your English-language skills and become more comfortable and confident in your abilities!
Buy Intro Program with Molly >