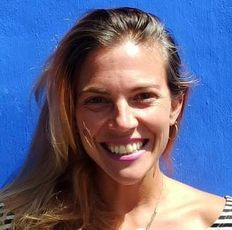 Melisa Morini
Spanish
Hello everyone! I'm Melisa Morini and I'm from Argentina.
I am currently living in Argentina although I chose a nomad way of life a couple of years ago. I studied journalism in the National University and worked in radio, television and written press. Today I work freelance for a few information websites and my personal blog.
I first started teaching for a state program whose goal was to help young adults over 24 finish high school and get their diplomas. That experience made me want to know more about the teaching/learning process so I studied to become a high school teacher. I have worked in different programs and levels, formal and non formal education since the age of 24. I found in teaching a really important role, with responsibility and compromise.
I learned English in a bilingual school and improved it by travelling, working in tourist areas, and in the permanent exchange with the people I meet from every part of the world! For me, learning languages comes naturally. Three months living in Brazil were enough for me to learn Portuguese!
I´m a curious person, I love to meet new people, and I really enjoy teaching my mother tongue and finding similarities and differences between cultures. I´m excited to work side by side with my students and help them reach their goals through the fantastic world of Spanish.
Buy introductory program with Melisa >