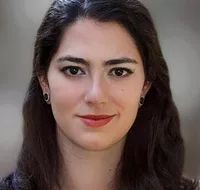 Mariya Kaganskaya
French, Russian, and English
French Team Leader
My name is Mariya (pronounced "Maria") Kaganskaya.
I was born in St. Petersburg, Russia, and grew up in San Francisco, CA, where I attended the French American International School and developed my love for languages. Becoming trilingual at a relatively young age gave me insight into the process of learning a new language. I have also had the experience of studying additional languages later in life, most notably Italian and German, and can appreciate that experience as well.
I got my BA at the University of California, San Diego, where I studied music and literature/writing, and earned my Master of Music and Postgraduate Diploma in vocal performance at the San Francisco Conservatory of Music. I currently live in San Francisco with my husband, baby son, and rescue dog, and work as a professional opera singer, performing all over the United States and abroad. I have performed roles with opera companies including the Santa Fe Opera, Arizona Opera, Florida Grand Opera, Opera Omaha, Opera Ithaca, Opera Santa Barbara, and New Opera NYC, and sung with orchestras including the Central Texas Philharmonic and the Shanghai Symphony Orchestra. On any given day, you can find me singing in Italian, French, German, English, Russian, Spanish, Latin, Yiddish, Mandarin, Czech... I've even sung in Elvish!
As a language educator, I enjoy exploring the intricacies of French, Russian, and English with people of all ages. I firmly believe that the best way to learn is through having fun, so expect games, songs, jokes, tongue twisters, and stories as well as grammar and pronunciation.
I would love to help you develop your skills in the sounds and structures of your chosen language. My goal is to give you the freedom to express what you need and want to express. Let's get started!
Buy introductory program with Mariya >