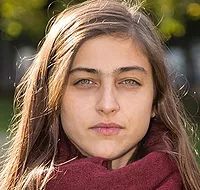 Josefina Smith Estrada
Spanish and English
Hi everyone! My name is Josefina Smith Estrada and I'm from Argentina. I currently live in Colombia, with my husband and my young daughter, Ainhoa. We´ve been living in Colombia for over a year now, a truly happy and tranquil life in the countryside. I'm a chef and a photographer by profession, but now I'm a full time mom.
I've learned English in school, from the age of 5. Went to a bilingual school, and then travelled the world, where I had a chance to perfect my English and learn to love it.
I'm a pretty easy going person and I love to meet new people, especially from around the world! I´ve been travelling for the past 5 years, moving from Argentina to Ireland, then Germany, the Canary Islands and mainland Spain before we came to Colombia and settled down.
I'm really excited to start this new adventure and I hope I can learn side by side with my students and become a better teacher every day.
Buy introductory program with Josefina >