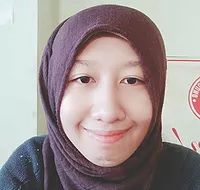 Fatimah Dwi Cahyani
Indonesian, Japanese, and English
Apa kabar! Greetings! Hajimemashite! I am Fatimah.
I am an Indonesian native, and fluent in English and Japanese. My love for exploring new cultures nurtures me since childhood, which brings me to the journey to my new hobbies such as learning language, art, and design. I used to learn various foreign languages. Yet in the end, I stayed for English and Japanese learning because I love playing the console games, reading comics, listening to Westlife-JPop music, and watching drama series without subtitles.
By the last year of high school, I realized that I wanted a career that could offer me the freedom to work online or remotely. Since then, I chose to enroll in Japanese literature. I was so fascinated by foreign cultures since I was staying at Japan for JASSO Scholarship's 1-year program, did my intern on tourism government office, being a tutor/buddy for Japanese-Australian university students, also after I did intern tour guide for UNESCO heritage site of Indonesia's Borobudur temple.
On the other hand, my love for art never fades away. I did continue to work as a freelance digital artist since 2013 and being a remote artist for 2.5 years at a comic publishing studio. Currently, I live on my own in Indonesia's capital city Jakarta, focused as a translator for Japan financial company. Sometimes, I do a freelance translation and digital art commission from online clients. In the online world, I believe that we can easily connect to people and cultures. Through teaching, I am eager to see me and my students thrive in new languages or improve the ones they already have a good basis for, learning with them and watching each other grow and blossom. Thus, I am so excited to be one of them, to share, teaching languages online, and meet you soon!
Buy introductory program with Fatimah >