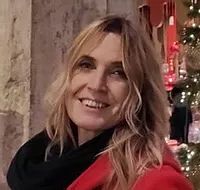 Francesca Zanatta
Italian
I was born in Treviso, Italy, a little enchanting medieval city near Venice.I've always enjoyed learning new languages since I was a kid and I have studied English, French and German at school.
In 1995, I graduated from the "Ca 'Foscari" University of Venice with a master's degree in Oriental Languages and Literature, specialising in Chinese Language and Literature.
The desire to become acquainted with the links between Venice and the East has led me to pursue a passionate study of this city and, over time, I have chosen to turn my passion into my profession. Not only I love to guide visitors arriving in Venice through the intricate maze of culture and cultures, history and stories, art and wonders that this city alone possesses, but also I love to meet people coming from all over the world. I have been working as a tour guide in Venice since 2009 and every now and then I enjoy teaching English and Mandarin to kids.
Some facts about me:
- I am Italian mother tongue and I speak fluent English
- I love reading and I like writing too.
- I am passionate about art history.
- I am very interested in different cultures and philosophies (Chinese, Arab and Jewish).
- If only I could I would travel around the world...
- I am a mother of two boys who drive me crazy!
Buy introductory program with Francesca >