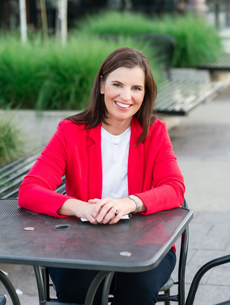 Daniela Boyce
German and English
Hallo! Wie geht's?
My name is Daniela and I am originally from the beautiful country of Austria. As a native speaker and teacher of Standard High German, I have a deep understanding of the linguistic variances, dialects, and accents of German-speaking countries.
Since I was young, I have been fascinated by foreign languages, travel, and diverse cultures. I began learning English and was fortunate to study French and Spanish throughout my school and university years. Through a series of opportunities to work and study abroad, I worked as an au pair in both London and Atlanta, completed a banking internship along the stunning Spanish Costa Blanca, and served as an International Purser on several cruise ships in the Caribbean.
My formal education is in International Business and Languages from the University of Linz, Austria. While studying abroad at HEC Geneva and Fribourg, Switzerland, I was able to immerse myself in French. Later, I earned a graduate certificate in Adult Training from the University of Linz. Following my university years, I worked in international Banking in both London and Zurich. After moving to the United States in 2012, I shifted my focus to teaching and tutoring German, as well as working as a Localization Specialist.
I completed my Professional Neurolanguage Coach® training with Efficient Language Coaching Global in 2021, and I am a certified Life Coach with ICF ACC credentials.
As a language teacher, I prioritize making the learning process fun and engaging for my students. I use bite-size grammar structures and incorporate plenty of conversation practice to help my students learn more efficiently and quickly. My experience ranges from teaching at local Saturday schools and summer language camps to personalized programs for doctors, lawyers, and CEOs. Whether in-person or online, I always strive to create lessons that are relevant, engaging, and fun.
I am excited to get to know you, your learning style, and create a personalized program that will help you achieve your language goals. Let's meet and get started!
Buy introductory program with Daniela >
Current students - schedule class with Daniela > coming soon