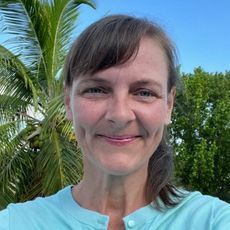 Melissa Price
American Sign Language (ASL)

Greetings Language Learner!

My name is Melissa Price: wife and lifelong pupil to a Deaf man, mother hen to three teenagers, and ringmaster of three dogs, four cats, and a Ball Python- a veritable zoo!

My family and I have lived in the suburbs of Greenville, South Carolina for more than 20 years. Although transplants from the North, we are fully acclimated and love our adopted Southern staples: shrimp & grits, beaches, and some of the country's oldest flora (the Angel Oak on John's Island is estimated to be around 500 years old!), to name but a few.

I enjoy traveling, DIY projects, camping, reading and writing, the mountains and the beach, family movie night, football (GO Gamecocks & Patriots!), and board and card games.

I dislike DIScouragement, sauerkraut, and entitlement mentality.

But, I 'heart' linguistics and languages, Batman, strong work ethic, debate, coffee, ENcouragement, birds, learning and research, George Washington, books, soup and bread, dogs, 100% effort, our military, and teaching.

I am a graduate of the University of South Carolina, having earned a Bachelor's degree in Education, with a Minor in English. I taught 6th grade English/Language Arts for seven years in the public-school sector and hold current, valid teaching certificates in Elementary Education, 6-8 Middle Level English/Language Arts, and Gifted & Talented.

I have three formal years of academic training in American Sign Language (ASL) from Spartanburg Community College: two within the language itself, one in an ASL interpreting program. While that education was pivotal in establishing a foundation in acquiring ASL aptitude, it has been my "forever foreign exchange student" environment that has proven most instrumental in attaining my ASL fluency: dubbed "forever foreign exchange student" for I use the language daily, in living and communicating, with my Deaf husband. My immersion is unceasing, and presents the gift of opportunity in ASL practice, correction, and vocabulary development: 24/7, 365 days a year. I am also an active member of the local Deaf community- an essential component within Deaf culture- with voluntary interpreting for Deaf friends as-needed, organizing Deaf events for our city's local ASL Club, and attending formal and informal Deaf functions.

In addition to the vast benefits of learning a second (or third, or fourth!) language, regardless of age, research shows that learning American Sign Language can increase IQ, improve spatial reasoning and visualization aptitude, and develop problem-solving skills. When I introduced my children, as babies, to solid food, I taught the accompanying sign alongside it. It proved priceless in preventing the frustration babies and toddlers can experience in attempting to communicate needs and desires before developing a spoken language. For the young child, studies reveal that ASL-learning kids always have higher reading levels and a 15–20% improvement in vocabulary. Being bilingual (ASL counts!) as an older student helps increase standardized test scores and improves chances of college acceptance and achievement. For the working adult, it can be a game-changer: catapulting you and your skill set above the rest and diversifying your portfolio.

A final thought to ponder… There are approximately 36 million hard of hearing and deaf people in the United States. While not all of those people use American Sign Language, many of them do. By learning this language, you're now able to communicate with 17% more of the population than you could have before!

I look forward to meeting and joining you on your American Sign Language journey!
Buy introductory program with Melissa >